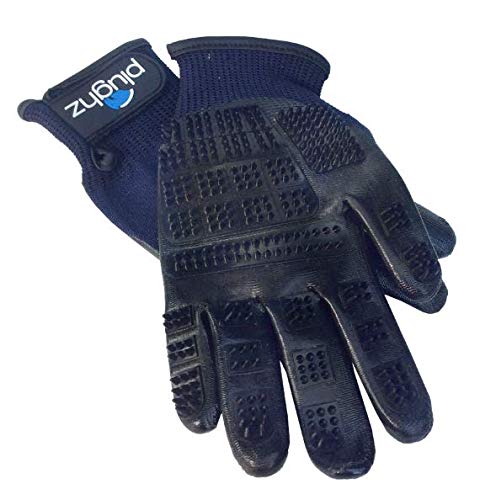 Plughz Wet/Dry Grooming Gloves
---
Plughz Wet/Dry Grooming Gloves
The Plughz Wet/Dry Grooming Glove was specifically made for you and your equine partner. The gloves have a full palm of gentle nodules like a traditional curry but with the flexibility of a glove.
The light-weight and flexible gloves allow you to work in hard to reach places and are gentle enough for use on their face and other sensitive areas. You can use both hands at once and get those hard to reach areas.
Use them for grooming or washing, your horse or pony will LOVE it! Great for shedding too. And you'll love how comfortable and flexible they are, while keeping your hands and nails clean. When washing, they won't fall off in soapy water and you can still pick up the hose or shampoo. A velcro tab at the wrist and stretchy, flexible fabric gives the perfect fit.
Flexible, lightweight & mildew resistant
Nodules on palm and fingers for grooming, washing or shedding
Removes dirt and loose hair while giving a massage
Durable and can be used wet or dry
Easily use both hands
Can be used on face and other sensitive areas
Velcro adjustment at wrist for good fit
Stretchy and flexible fabric on wrists and back
Contains no latex
Colors: Black on palm, Dark Navy on top
Sizes: Ladies Small (6-7), Medium (7-8) or Large (8.5-10.5)
---
Share this Product
---
More from this collection