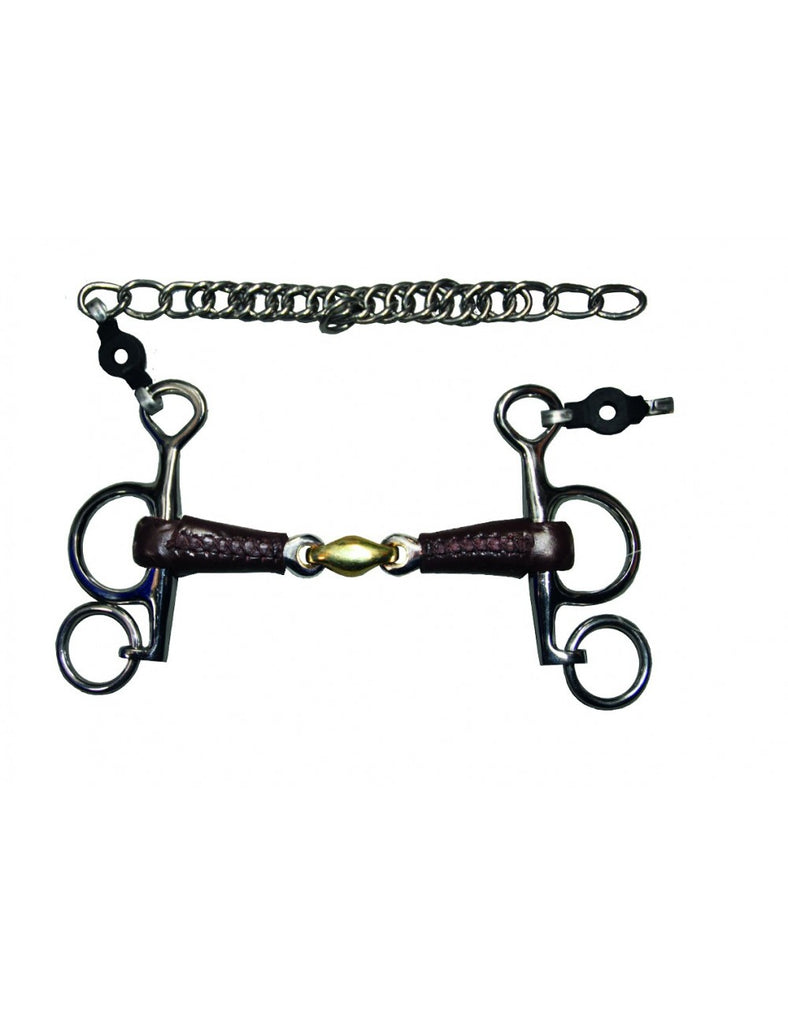 Jump'In Leather with Peanut Pelham
---
Jump'In Leather with Peanut Pelham
Composition: Pelham bit with 35 mm long cheeks, Stainless Steel cannons covered with leather and a french mouth part made of German Silver (65% copper, 23% zinc, 12% nickel: a relaxing and solid alloy). Leather Jump'In bits are very soft and comfortable for horses. Unlike stainless steel, sweet iron or other alloys, leather prevents from a too cold contact. 
Important note to our clients: leather bits are not guaranteed against bites even after the first use.
Effect: the Pelham bit is a great compromise between the bridle and the double bridle. It offers a lever action more or less strong depending on the cheeks length, the curb chain adjustment and how it is assembled. This bit makes the horse give in in the neck and exercises pressure on the mandibles.
Tips: every Pelham bit can be used directly with two reins, with bit loops or with four reins. Therefore, the curb chain action can be softened by using other curb chain types as leather or nylon ones. The cannon is covered with leather to prevent a too cold contact in the horse's mouth and to offer more comfort.
Maintenance advice: rinse the bit after each use to prevent any residue deposit and to avoid your horse to feel any discomfort. Oil the leather with a vegetable oil (Warning: do not use neatsfoot oil or other any synthetic oil) to keep a soft and nice contact for your horse. 
Size: 125cm or 135cm
---
Share this Product
---
More from this collection