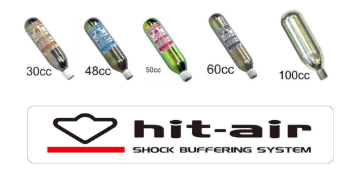 Hit Air Replacement Cartridge
---
Hit Air Replacement Cartridge
Cartridges will last indefinitely but should be replaced with the first sign of rust or surface deterioration.
Each jacket comes with a handy tool to complete the replacement quickly and easily.
ATTENTION: Use ONLY Hit-Air cartridges for your jackets and vests. The Hit-Air cartridge is part of the deployment system.
DETERMINE YOUR CARTRIDGE SIZE BY MODEL:
Cartridge Size Models
48cc - SV2, LV
50cc - MC2, MC3, JV, Vest-YS, MV3, MV5, Advantage™ (Small to Medium)
50cc - GP2, MX3, MX7, HS3, HS5
60cc - MLV series, Motorrad series, EU series, Autobahn series
---
Share this Product
---
More from this collection