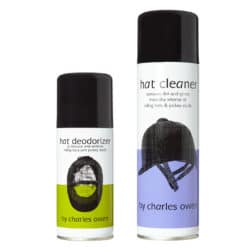 Charles Owen Hat Cleaner & Hat Deodoriser
---
Charles Owen Hat Cleaner & Hat Deodoriser
To start, never dry clean your helmet, expose it to harsh solvents, or put it in the dishwasher. Instead, be sure to use products that are specially formulated for use in the helmet's interior. Charles Owen Helmet Deodoriser and Helmet Cleaner together provide a complete cleaning system to improve the longevity of your helmet and to keep it sanitary and safe. The Helmet Cleaner is specially formulated to break up dirt and grease, effectively removing sweat, sunscreen, makeup and dust. The Helmet Deodoriser kills odor-causing bacteria and is perfect for a quick refresh between rides. Simply spray it onto the lining of the helmet and then leave it in a cool place to dry.
Follow these steps to effectively clean your Charles Owen:
Spray the cleaner onto the headband.
Allow the helmet to sit for two to three minutes. This is important because it gives the cleaner time to work.
Take a damp cloth and gently work the cleaner into the headband in a circular motion. Use the minimum amount of water so that the helmet liner isn't fully soaked and will be able to dry quickly.
Repeat until all the dirt from the headband has transferred to the cloth.
---
Share this Product
---
More from this collection