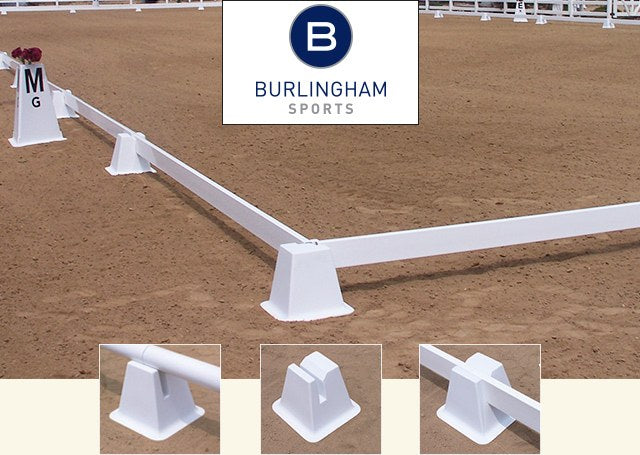 Burlingham Sports 20 x 40 Meter Wellington Arena
---
Item # 924WA
20 x 40 Meter Wellington Arena
The Wellington Arena features a set-in design that is user friendly for set up. The rails are pre-measured so you simply place the 4 meter (157 1/2") rail into the supports which assures perfect increments every time. The Wellington supports are made with white UV stabilized polyethylene. The 100% UV treated material is super tough and durable and will withstand abuse and all weather conditions. The Wellington Arenas are very stable in high wind areas. We use ribbed rails (not hollow) that are made of 100% UV resistant PVC. Ribbed rails add strength, durability and rigidity. The Wellington Arena uses 1 1/2" x 5 1/2" rails that make the height the required 12". The supports (Cones) are also sold separately and designed to house round rails. If you choose, you can set up your arena using fence rails or jump rails you have on hand. The Wellington Trainer allows you to make a full size course with fewer rails placed for training giving this unique design many advantages not found with other arenas. 
All Burlingham Products will be drop shipped from the manufacturer.
Please allow 7-21 days for delivery.
Additional shipping charges may apply.
Final sale, this item cannot be returned or exchanged. 
---
Share this Product