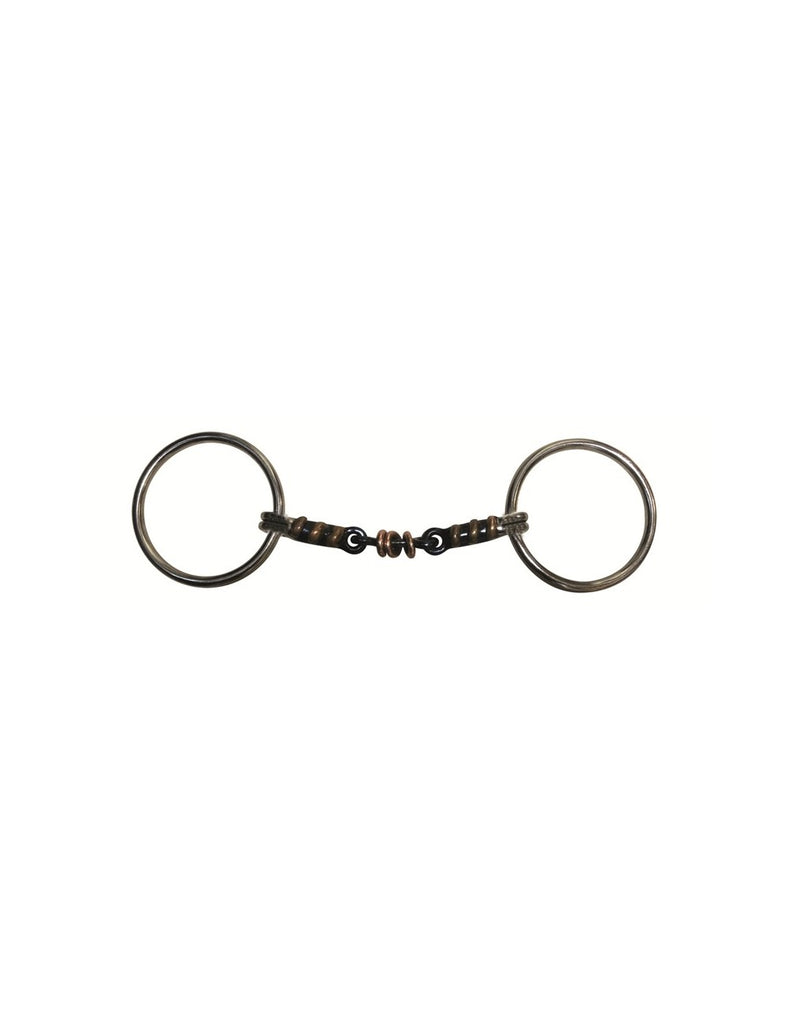 Jump'In Blue Steel with Copper Elements Loose Ring Snaffle
---
Jump'In Blue Steel with Copper Elements Loose Ring Snaffle
Composition: French mouth bit with 90 mm large rings and 13 mm thick cannons made of Blue Steel. The Blue Steel alloy of this Jump'In bit collection is 54% carbon and 46% manganese. Blue Steel oxidizes when in contact of air and humidity creating a thin layer of rust which has a sweet taste that will naturally stimulate the production of saliva. By salivating more, horses will take the bit more. With this oxidizing process, the bit color will turn into a greyish brown.
Effect: the bit has a direct action with no lever action and it prevents the roof of the mouth from any pressure thanks to the French Mouth characteristic.
Tips: the most controlling bit, it is the best help for directional problems. This alloy will oxidize with time and create a layer of rust that will stimulate the horse relaxation while working. The copper elements and the copper rings on the central piece will also have an positive effect on the horse relaxation.
Maintenance advice: rinse the bit after each use to prevent any residue deposit and to avoid your horse to feel any discomfort.
Size: 125cm or 135cm
---
Share this Product
---
More from this collection