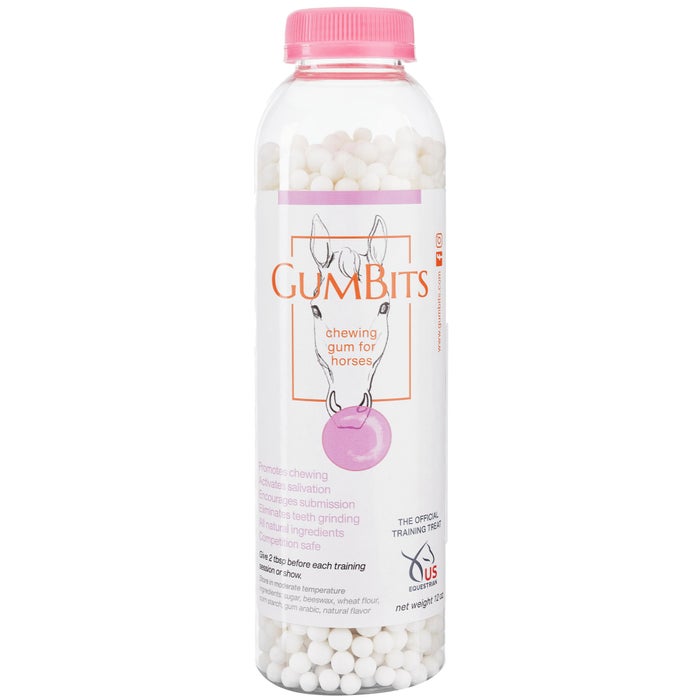 Gum Bits Natural Horse Chewing Gum
---
Gum Bits Natural Horse Chewing Gum
No matter what you do with your horse, Gum Bits Chewing Gum for Horses was designed to promote salivation, encourage submission, and eliminate teeth grinding. 
When the horse relaxes his jaw by chewing, the salvation process is activated. This leads to a softer mouth and a willingness to accept the bit. This is ideal for young horses learning to accept the bit for the first time or schooled horses moving on to more complicated bits.
Perfectly safe for showing, riders from every discipline love that this all natural gum relaxes their horses during times of intense competition. Not only does this revolutionary gum work as a behavior deterrent, but horses' love the taste of Gum Bits- making this training aid not only functional but a treat as well!
Promotes Chewing Action
Encourages Submission
Activates Salivation
Eliminates Teeth Grinding
All Natural Ingredients, Competition Safe, FDA Approved
Ideal for All Ages of Horses & Disciplines 
Perfect for Everyday Use of During Shows
Feed 2 Tablespoons before each ride
Available in 1 lb. Bottle
---
Share this Product
---
More from this collection