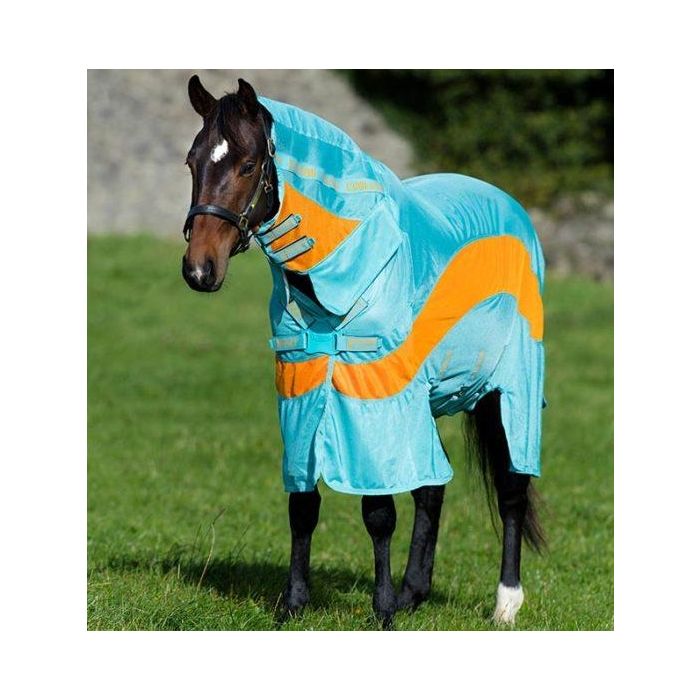 Amigo Evolution Fly Sheet LAST ONE
---
Why Aqua & Orange?
In our development of the new Evolution Fly Sheet in Aqua/Orange, we carried out extensive research to support our use of this color combination. Most insects have what are known as 'compound eyes', which restrict their ability to see certain colors. In fact, research has shown that most insects aren't sensitive to many shades of yellow, orange and red. Most insects can, however, see Ultraviolet lights very clearly. It is the UV pigments in flowers, as opposed to the vibrant colors, that attract insects. For example, you may notice that flies are attracted to certain colors, such as your brightly colored jacket or car, but the chances are that this object is reflecting light in a way that is attractive to these insects.
We used this research in the development of the Evolution Fly Sheet by choosing colors containing no UV pigments and that are known to be difficult for insects to identify. The pattern we use breaks up the shape of the horse, so insects struggle to identify it as a target and can't figure out where to land, essentially camouflaging the horse against a wide range of pesky flies and bugs.
Colors
Insects respond differently to different colors. Interestingly, most insects cannot perceive the colors orange or aqua, because their vision centers on different sections of the electromagnetic spectrum. This is a natural deterrent in itself.
Fabric
The knitted polyester net body is soft, absorbent and strong with sun reflecting properties.
Features
Supersized tail flap with silky lining, leg arches, shoulder and mane lining, belly flap with velcro closures for full belly coverage, three straight surcingles, integrated neck cover and fillet string. In addition it also features our new disc front closure system (35grm) to create a super lightweight, high tech product.
NO REFUND/EXCHANGE ON CLEARANCE/CLOSEOUT ITEMS! 
---
Share this Product
---
More from this collection